International Basic Science Conference (IBSC)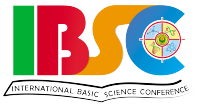 International Basic Science Conference (IBSC)
Conference organised by University of Jember
The International Basic Science Conference (IBSC) is an international conference directed towards the development of Basic Sciences for enhancing health, environment, energy, and biotechnology. The Conference gathered researches, academics, educators, industrial practitioners and other basic science professional to meet and share knowledge and the results of research.
Topics: Multidisciplinary, Science & Technology
Proceedings organised by IBSC:
No publications found
International Basic Science Conference does not yet have any articles on Neliti. If you are affiliated with this Conference and wish to have your proceedings papers indexed, please contact us.