Seminar Nasional Teknik Kimia Kejuangan (SNTKK)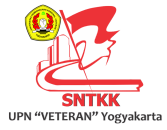 Seminar Nasional Teknik Kimia Kejuangan (SNTKK)
Conference organised by UPNYK
Seminar Nasional Teknik Kimia "Kejuangan" (SNTKK) is an annual agenda organized by the Chemical Engineering Department of the Faculty of Industrial Engineering (FTI) UPN "Veteran" Yogyakarta. This seminar is a mean of communication for researchers from universities, educational institutions, research institutions, and industries in developing chemical technologies to process Indonesia's natural resources.
Topics: Energy & Natural Resources, Chemistry & Chemical Engineering, Biochemistry, Genetics & Molecular Biology
Proceedings organised by SNTKK:
No publications found
Seminar Nasional Teknik Kimia Kejuangan does not yet have any articles on Neliti. If you are affiliated with this Conference and wish to have your proceedings papers indexed, please contact us.